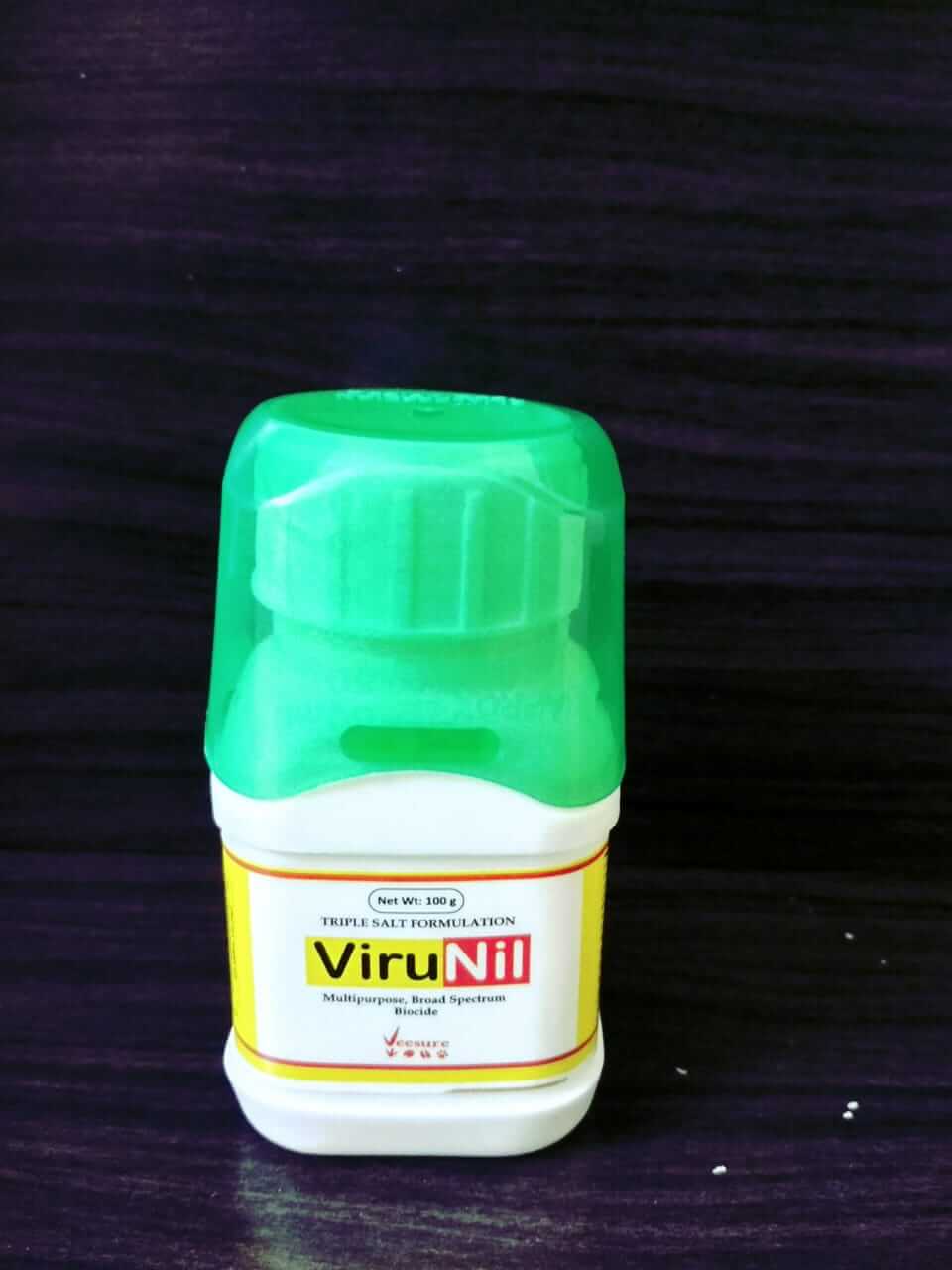 VIRUNIL is a disinfectant possessing wide spectrum virucidal, Bactericidal and fungicidal activity. The effectiveness of VIRUNIL if further enhanced by its excellent detergent properties, so that clean disease-free surfaces can be achieved. VIRUNIL is unique in its composition. Its activity is based on a buffered synergized and per oxygen system containing a high percentage of surfactant. VIRUNIL can be used on all surfaces and in all situations. VIRUNIL is of low toxicity, non-taining and Non-irritant, Because of its high detergency and mode of action, VIRUNIL can be used in an exceptional variety of situations for effective cleaning and virucidal disinfection in a single operation. VIRUNIL can be applied manually or through all types of cleaning and spraying equipment. Readily soluble in lukewarm water giving a clear yellow solution. VIRUNIL consist mainly of inorganic salts.
Composition:
Blend of inorganic peroxygen compounds, salts, buffers, descalants, detergents and stabilizers.
Mode of Action:

VIRUNIL oxidizes sulfur bonds in proteins and enzymes disrupting the function of the cell membrane causing rupturing of the cell wall.



Broad Spectrum Disinfectant:

VIRUNIL is effective against numerous microorganism affecting animals: viruses*, gram-positive and gram-negative bacteria, fungi, molds and yeasts and mycoplasma



Unique Features:

Readily soluble in tap water


Easy for application


Nontoxic, nonirritating and noncorrosive at user dilution


Broad spectrum of antimicrobial activity even in the presence of heavy soiling, including bacteria, viruses and fungi

Applications:

A. For Aquaculture:

Aquaculture Hatchery: Shrimp / Prawn / Fish: 5 gm to 10 gm / 1 ton of water


Aquaculture Pond: Shrimp / Prawn / Fish: 500 gm to 2 kg / hectare.


Processing unit: Shrimp / Prawn / Fish wash and water disinfection: 5 gm to 10 gm / 1 ton of Water.


Disinfection of pre-cleaned surfaces, equipment (Including nets, Aeration Paddles, Hatchery Equipment) and foot dips: 10 gm / liter of water (1:100, 1%) Application rate: 300ml per square meter of surface area.

Usage Instruction

a. For Prevention of diseases in hatcheries and ponds: Apply VIRUNIL once every fortnight according to water quality.
b. For treating diseases in hatcheries and ponds: Apply VIRUNIL once every 3- 5 days or as advised by Aquaculture Consultant.
c. Application procedure: Dissolve required quantity of VIRUNIL in water outside the tank / pond in a Clean container and then spray uniformity throughout the tank / pond.
Inquire Now
---